What are Customer Touch Points?

There are many jargon used under the business umbrella that have much deeper meanings than what appears on the outside. One such example is the word "customer touch point"
So what are customer touch points? Here's a detailed overview of the term and its importance.
Touch points are each interaction between your company and your customers. This interaction can be at any stage of the purchase from initial consideration to delivery of the product or service.
Touch points shape our customers' perception of our company and greatly influence the final decision-making process and whether they chose to purchase from you again in the future.
Types of Touch Points
First and foremost, there are two broad categories of touch points: We have:
Direct Touches:
Such interactions are when a company plays a direct role in creating customer experiences. This could be your website interface, contact centre support etc.
Indirect Touches:
These include interactions whereby a company does not play a direct role in creating user experiences. For example word-of-mouth marketing, customer reviews etc.
Mediums of Touch Points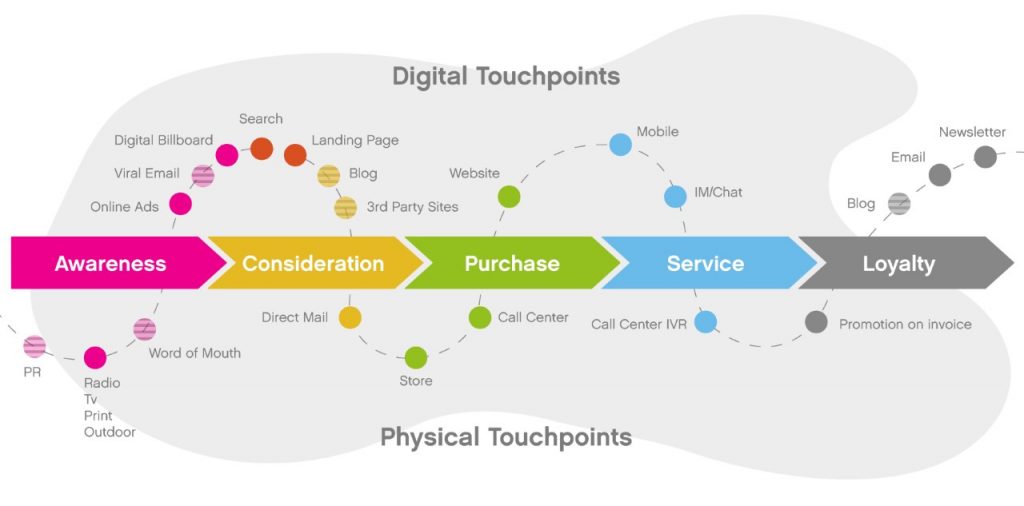 One important thing to realise before moving on is to identify the mediums through which interactions between customers and your company take place.
There is no one-size-fits-all and it's important that you make a full list for your company.
Common types of touch point mediums include:
Web

Applications
Live Chat
Emails
In-Store
In-Person 
Telephone
Social Media
Kiosks 
Significance of Identifying Customer Touch Points
That's great. But why is it important to map our touch points?
Improving brand image by providing excellent Customer Experience (CX) is critical for all business to drive engagement and repeat business. The identification of customer touch points is the first step in building out a rockstar CX program.
Customer experience is a proven method to gain a competitive edge over other similar companies. It helps you turn a first-time buyer into a repeat customer. It also enables you to reduce the churn rate and improve net promoter score (NPS). All of these factors help drive your sales and increase market share.
"Always keep in mind the old retail adage: Customers remember the service a lot longer than they remember the price."


Lauren Freedman
Identifying your customer touch points enables you to have a better understanding of what your customers are feeling at each stage of their buying process with your company and through different mediums and channels.
It tells you what each customer expects and how you can exceed those expectations in order to create WOW Moments.
Once you have identified key points where your customers connect with you, you will be better placed to create enhanced experiences for them and devise effective marketing strategies
Identifying Your Customer Touch Points
So, we have established that through extraordinary customer experience, companies can get ahead of their competitors.
Well, you can only create such outstanding experiences once you identify the key customer touch points, and work to simplify them – reducing the friction as much as possible!
Identifying customer touch points is not that difficult.
We are going to talk about Customer Journey Maps and Categorising Touch Points in detail which will prove to be helpful in your quest of identifying customer touch points and enhancing them.
Customer Journey Maps
Customer journey covers the entire path a customer takes when interacting with your brand.
CJM is an excellent tool to identify your customers' touch points. It provides a visual representation of what each interaction looks like from the consumer end.
P.s Here's what you need to know more about customer journey maps.
"Building a good customer experience does not happen by accident. It happens by design."

Clare Muscutt
Understanding customer journey is like closing a loop and seeing improvement opportunities for yourself. It is evident that visual representation helps to identify the touch points and the rating subsequently helps in making improvements. Mapping helps to design a realistic customer journey and in identifying the touch points. Once you do that, your way to improving things become better and more transparent.
Categorise Touch Points
Your customer touch points can be divided into three categories. These are, before, during and after the purchase.
At all these times, a customer interacts with elements associated with your company and creates a perception of you that we call 'brand image' in marketing terms.
As mentioned earlier, all businesses can't have similar customer touch points. Given here is just a general idea that you can take the help of to tailor your crucial customer touch points according to your business model.
We have a free guide for you!
Download a brief customer touch points presentation guide for future reference – FREE!
Before Purchase
There's always a starting point when a person gets to know about your brand. Apart from impulsive buyers, most buyers will first identify their need for something.
Chances are they just look it up on the web and came across your website or hear about you from a friend/colleague who has had a previous shopping experience with you.
The next step would be to see your social media pages and check for other customers reviews and ratings.
Your website and social media have the potential to either win the customer or never have him coming to your store. Hence, it's vital to create a strong and crisp social media presence.
In a nutshell, the following are the possible customer touch points before purchase:
Item Referrals
Advertisement
Reviews
Demo/testimonials
Storefront
During Purchase
Once a customer is satisfied with the reviews/demos you provided, they will come to visit your store. The in-store experience is clearly very important in making the final purchase decision.
They say, 'the first impression is the last impression'. The way you present your store, environment, vibes, sales staff and even toilets have an impact on the impression your customers are going to take.
According to a study, 32% of consumers never returned to businesses that appeared dirty.
Web-stores are the modern storefronts. It is equally vital to keep your website interface clean, products well-organised and an overall classy look for the customers to have a convenient browsing experience.
The virtual live chat option here plays the role of a sales attendant, so make sure to add a bit of personalisation there!
The check-out experience is also very vital to take care of. Most online businesses struggle to know the reason behind customers abandoning their carts and not making the payments.
Make your check-out process seamless and fast, so you don't have to worry about stranded carts.
In a nutshell:
During purchase, your customers will be considering you majorly through:
Store
Website
Catalogue
Sales staff
POS
After Purchase
The work is not done yet. Customers who have made a final purchase are yet to be entirely satisfied for them to return and recommend you in their circle.
Regular follow-ups, service provision, contact centre experience all play a role in building loyalty amongst your clientele.
Customers who have a fantastic approach to marketing customer touch points go the extra mile to satisfy their customers.
Seasonal greeting emails or texts, product recommendation based on previous experience, discount offer emails and referral coupons are just some other ways to win your clients over and grow your business altogether.
Few of the touch points that matter after making a purchase are:
Help/Contact Centre
Follow-up service
Recommendation emails
Loyalty program
Some Final Tips: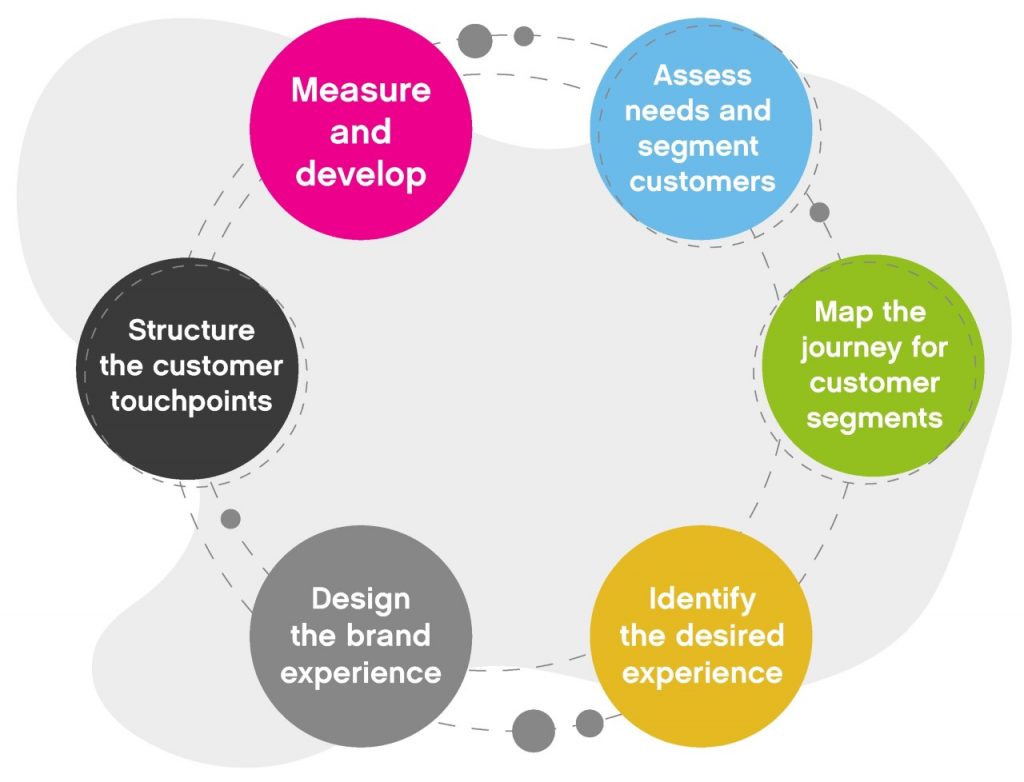 After identifying your customer touch points, come up with ideas to further enhance each touch point.
The goal should be to reduce customer effort and minimise the time it takes for your customer to reach from one point of the journey to another.
Innovation is the key to success and brainstorming ideas to improve customer service will take you to the path of guaranteed success. Here are some essential recommendations:
Be Consistent
You must provide consistency as a whole. All customer touch points add up to the ultimate customer experience.
Companies should remain consistent in the service they provide at touch point because customers perceive their experience as a whole and not what it's like in individual departments.
Walk the path as a customer
To identify loopholes in your customer journey, you must walk the path yourself as a customer. It will you insights into what customers feel at each touch point and how you can make facilitate it for them.
Collect feedback
Feedback validates your customer journey and touch points that you have established previously. The feedback from customers helps you make improvements and further enhance the customer experience.
Collecting feedback is one of the most effective methods companies use to fill the gap between what the company wants to 'give' and what the customer actually 'gets'. After all, it's the customers who live your brand and only they can tell you better, what's working for them and what's not. Feedbacks help to understand and alleviate customer pain points.
Conclusion
Identifying your customer touch points is vital for you to create excellent customer experience just from the start to the end. It helps you build loyalty among customers and compete with your opponents.
We talked about Customer Journey Mapping as a way to identify your customer touch points and then walking the path to look for any loopholes present.
Customer categorisation is also an effective way to categorise your customer interactions into three main groups, i.e. before purchase, during purchase and after purchase.
Consistency among different departments, walking the customer path yourself and collecting feedback were the steps recommended to take the best out of your touch points identification venture.
For further reading: Here's an example of Apple's Customer touch points.
Why is it important to identify customer touch points?
It is important to identify touch points to deliver the best customer experience. Better customer experience than those of competitors enables you to have improved loyalty and advocacy of customers
What happens if we don't identify the right touch points?
If you don't identify the right touch points, you wouldn't be able to deliver value to customers when and where they interact with your company. When you don't deliver value, customers will not feel special and naturally go to your competitors.
Is there any automated system to identify customer touch points?
Collecting feedback is a great way to know what the customer experience is like at each point. Feedback can be generated automatically, but they ought to be designed in a way to aid in identifying customer touch points.
Is a customer journey map and customer experience map the same thing?
Yes, Customer Journey and Experience maps are almost the same except that the journey map focuses on the touch points a customer has with your company. It encapsulates both the front-end and back-end dynamics. While the customer experience maps are focused on the customer's side of the view and how they feel at every interaction.